FULVIC ORIGINAL
TRACE MINERAL COMPLEX
200 SERVINGS PER DELIVERY!
Commit to your health as a couple or family and enjoy regular deliveries of IONICAID Fulvic Trace Mineral Complex! You'll receive both our Water Bottle and Speed Rope as your FREE GIFTS on your first delivery! As a subscriber you can add additional accessories at 50% off so your whole crew has the tools they need!
IONICAID isn't "just another electrolyte drink"—it's a blend of fulvic acid, electrolytes & Vitamin D3 that are backed by scientific research to help you stay hydrated, replenish lost minerals due to vigorous activity, increase your energy levels, and support gut health, leaving you feeling energized and focused.
IMPROVES GUT HEALTH AND NUTRIENT UPTAKE
IMPROVES PERFORMANCE & RECOVERY
ENHANCES ENERGY & FOCUS
LABORATORY FORMULATED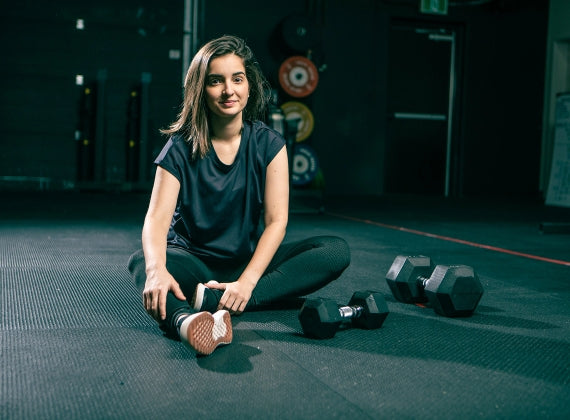 WHAT ARE THE BENEFITS OF ELECTROLYTES?
Calcium - strengthens bones and is needed for muscle contraction
Magnesium -  plays an important role in molecular, biochemical, physiological, and pharmacological functions in the body
Potassium -  helps nerves to function, supports muscle contraction, and helps your heartbeat stay regular
D3 - Improves calcium absorption
WHAT IS FULVIC ACID?
Fulvic acid is a natural organic acid extracted from sources naturally rich in nutrients and electrolytes. Fulvic Acid is best known for its uniquely powerful chelating properties - it holds on to minerals and compounds - delivering valuable nutrients to tissues and cells, contributing to many metabolic processes in the body.
Studies have also shown some additional benefits include minimizing free radical damage, increasing hydration, reducing inflammation, reducing recovery time, and improving cognitive and neurological function.
Electrolytes and trace minerals are essential for maintaining cognitive function, hydration, muscle contraction and repair.
FACTS & USE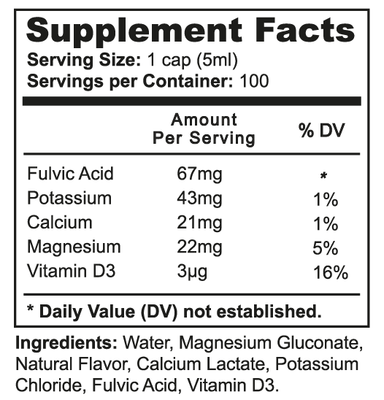 Suggested Use: Mix 1 tsp or 5ml to 500ml of water once or twice daily.
Alternatively, you can add your IONICAID to smoothies, meal replacement shakes, or your preferred beverage.
Disclaimer: KEEP OUT OF REACH OF CHILDREN. Best to refrigerate after opening. Consult a physician before adding new supplements to your health care program.

These statements have not been evaluated by the Food and Drug Administration. This product is not intended to diagnose, treat, cure, or prevent any disease.
Reviews
JENNA P.

HANDY FOR ON THE GO!

This bottle is a perfect size for tossing in my tote when I'm on the road commuting, or jumping in and out of meetings at the office. I love the feel of the bottle, but would love to see some more colour options!! THANKS!!

BRUCE G

NO MORE WET HANDS

Yep. I'm writing a review for a water bottle. This was a gfit and I didn't think much of it but it's now my favorite water bottle. I like LOTS of ice in my water when working out and my other bottles would get condensation and it just irritates me when my hands are wet when working out. The coating on this bottle feels great and keeps my hands happy and water nice and icy!

MARC M

Fits everywhere and great reminder

I've really been trying to keep up with my water intake and this has really helped me establish a new routine. I just drop my capful of Ionicaid to the bottle in the morning, then be sure to refill with water throughout the day. And it fits in my car cupholder so it comes with me everywhere. 👍